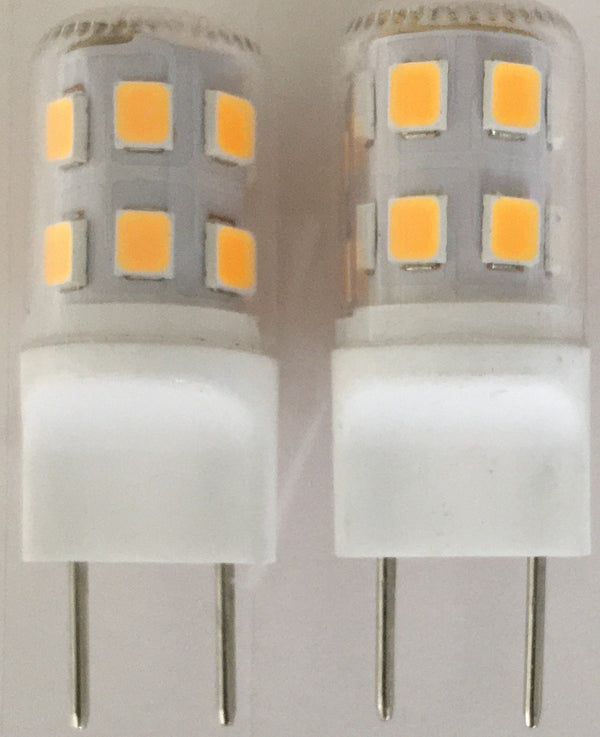 FREE
SHIPPING
100% MONEY
BACK GUARANTEE
ONLINE
SUPPORT 24/7
Availability:
99 In Stock
There's obviously a clear winner when it comes to LED vs halogen lighting. LED lights are more energy-efficient, have a longer lifespan, and offer more choices in color temperature. They do cost a little more, but their extremely long lifespan easily offsets the higher upfront cost.
G8 LED Bulbs Replacement for Microwave Ovens - 3 Pack
Compatibe with Amana Frigidaire GE Jennair Kenmore Sears LG Maytag Samsung Whirlpool Zenith microwaves
Measure your old bulb: if the distance between the two pins is 8 mm, then this will fit.
Include 3 bulbs.
2W (equivalent 20W Halogen) 120V T4 JCD Type, Dimmable, G8 Bi-pin Base (8 mm between pins), LED light bulbs.
100% brand new, high quality, factory sealed LED bulb replacement. Compatible to OEM Standard.
Color: warm white 2700 K, 200 Lumens, Life 20000 H, 2835 16 Pcs Lamp Beads, Ceramic + PC, Light angle 360 degree.
Size 13.5 mm x 36 mm (0.53 in x 1.47 in)
Can be used in home, office, ceiling lights, table lamps, desk lamps, outdoor lights, under cabinet fixtures, bathroom lights, closet lights, microwave ovens, oil warmer, candle warmer, scented lamps, aroma night light.
Product guarantee: Should the bulbs arrived damaged, not compatible, wrong size, lost in transit, we would be glad to send new and correct size replacements at no charge.
Please make sure that your old bulb is 8 mm apart between pins before ordering. Thank you.
Also fit the following microwave ovens:
Amana: AMV5206BA,
Frigidaire: 5304452831, E30DF74EPS, E36DF76EPS, E48DF76EPS,
GE: WB25X10019, PVM2070SM1SS, JVM1850SH03, WB08X10057, AP4380308, WB36X10213, WB08T10046, WB08X10051, WB08X10050, WB36X10246, WG03F00381  DVM1950SR2SS, JVM7195SF1SS, 1472843, AH2351821, EA2351821, PS2351821, JVM3670BF001, WB08X10057, 1472417, AP4369133, WB25X25393, WB03K10216, WB25T10064, GE ADVANTIUM, SCA1000HWW02, WB08T10045, WB49X29679, JVM1790SK01, PVM1870SM3SS, PVM1870SM1SS, PVM1790SR1SS, JVM2070SK02,
Jenn Air: JVM8208BAS,
Kenmore/Sears: 36363692301, 36363693302,
LG: 6912A40002F, 6912A40002E, 6912A40002D, 6912A40002J, 72186002010, 72186003010, 72186009010, 72186012010, 72186013010, 72186019010, LMVH1711ST, 85513, LMV1773SS, LMV2061SB, LMV2061SS, LMV2061SW, LMV2071SB,
Maytag: MMV52Q7AAS, MMV5207BWC,
Samsung: ME18H7045FS, ME18H704SFS, MC17F808KDT/AA-0000 MC17J8000CG/AA (0000) MC17J8000CS/AA (0000) ME179KFETSR/AA-0001 ME18H704SFB/AA-0000 ME18H704SFG/AA (0000) ME18H704SFS/AA-0000 ME18H704SFW/AA-0000 SMV9165BC SMV9165BC/XAA SMV9165SC SMV9165SC/XAA 4713-001165 AP4051371 2029165 PS4132158,
Whirlpool: 4713-001165, WP4713-001165, WP53001905, WP74009925, 74009925, 899138-001, W10886919, 74004458, W10298151, 8204670, 8169418, 8184302, 8185188,
Zenith: SL-5591-A2-A,
We ship within one working day of receipt of payment, out of Toronto Ontario Canada.

Delivery Guaranteed: If the item is not delivered for any reason, we will issue a full refund.

Shipping within Canada:
Standard Shipping:C$4.95 plus FREE shipping for each additional item. Expect 4 to 8 working days for delivery.
Expedited Shipping: C$14.95 plus FREE shipping for each additional item. Expect 3 to 6 working days for delivery.

Shipping to the United States:
Standard Shipping:C$9.95 plus FREE shipping for each additional item. Expect 5 to 9 working days for delivery.
Expedited Shipping: C$24.95 plus FREE shipping for each additional item. Expect 4 to 6 working days for delivery.